Blog: Into the Woods…
Friday 3 Apr 2020
With 55 acres of untouched woodland, formal sunken gardens, golf course, sports courts and pitches that Twickenham could be envious of; the grounds at Swanbourne are truly impressive.We're passionate about letting learning and education develop in this outdoor settings, cue the newly built Outdoor Learning classroom…
Whether it be French vocab, a reimagined version of a Shakespeare classic or a House music competition, this outdoor space allows creative freedom and imaginations to run free.
Nestled in the woods in the grounds the Outdoor Classroom hosts all sorts of enrichment activities and lessons. This is a hugely popular place for students, made up of a permanent tepee with benches circling a fire pit. This space is not just for traditional outdoor learning, with the classroom used for any lesson, with maths and geography often taking place in this woodland setting. It's a place for social time and relaxing too, with pupils enjoying making hot chocolate and toasting marshmallows on the fire.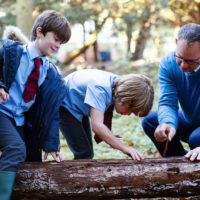 Andrew Kirk, Head of Outdoor Learning and Enrichment at Swanbourne House tells us more: "Providing the students with the opportunity to explore and learn skills in an outdoor setting is a hugely important part of life here at Swanbourne. We see children thriving in the outdoors with the freedom our grounds provide. Being in the woods, making dens, learning bushcraft, sleeping under the stars and enjoying food cooked on the fire are the things great memories are made of, but also help the children develop team working skills, problem solving, grit, determination and resilience."
 "We like to send children home muddy! Exploring the outdoors and experiencing the natural world is encouraged  take part in ecology clubs, explore the woods and get out whatever the weather. As early as the 3s, we offer progressive levels of outdoor challenge that combine discovery, experimentation, independence, social and emotional awareness and understanding risk."
The outdoor programme extends beyond the grounds to include hiking in the peak district, kayaking on the River Wye and trips to the New Forest.
Andrew continues, "Learning outdoors is incredibly important for personal development – when the curriculum is taken outside it can improve attainment, increase engagement and enhance personal attributes that help pupils thrive as team players and individuals. We're incredibly proud of the impact our outdoor learning programme continues to have."