Classics trip to the British Museum
Wednesday 4 Mar 2020
Last Saturday, pupils in the Scholarship Saturday Enrichment Programme and those doing Ancient Greek visited the Troy exhibition at the British Museum.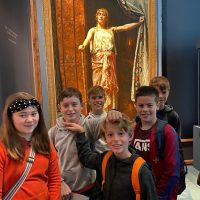 This was an excellently curated display, which told the story of the Trojan War and the discovery of Troy; with artefacts ranging from Nestor's Cup (730 BC) to Eleanor Antin's portrayal of the Judgement of Paris (2007).  the exhibition served to highlight precisely the story's universal and timeless relevance.
From dramatic ancient sculptures and exquisite vase paintings to powerful contemporary works, alongside fascinating archaeological evidence suggesting some truth behind Troy, the children were able to explore all aspects of the mythical stories. The children's interest didn't go unnoticed as a member of the public even commented that "their enthusiasm is infectious – and they know so much!". 
Thank you to Phineas and Ben for telling us about the exhibition in Assembly, both mentioning the vast amount of pottery and jars that were used to tell the story.