Miss Barlow sings at the UN
Friday 27 Sep 2019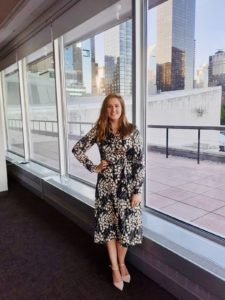 Huge congratulations to Swanbourne's Miss Bella Barlow, who has recently returned from singing at the United Nations as part of the SDG Convergence Conference in New York.
Bella was commissioned earlier this year with her writing partner, lyricist A.C Smith, to write a song for The Canales Project linked with the University of Wolverhampton and the UN Decade of Women. The Canales Project set up Hear Her Song, an initiative that celebrates extraordinary women leaders through newly commissioned songs by female composers. Bella and A.C as their 'Barlow and Smith' writing duo were commissioned to write a song for the incredible Janet Salazar. Janet works at the UN and has set up charities and initiatives to support women all over the world, and raise equality throughout the UN, and further afield. 
After the success of the UK Hear Her Song premiere in June, a brand new partnership was announced between The Canales Project, and The United Nations Ambassadors Fund and to celebrate this partnership, Bella was flown out to New York to sing their originally commissioned Barlow & Smith song 'Just A Little' for the launch. A great opportunity to actually meet her honouree, Janet and also to sing for her in person at the launch event.
The following evening, Bella will be singing once again, and sharing more of her composing work, as Barlow & Smith host their debut songwriting cabaret 'London Calling – An Evening with Barlow & Smith' at The Duplex, NYC.