Skating Success
Thursday 7 Nov 2019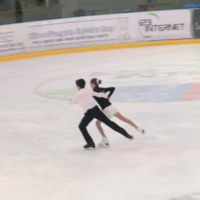 Congratulations to Isabella F, and her partner Leo, who have successfully passed their National Ice Skating Association Level 3 test in Pattern Dance. 
Isabella began skating 3 years ago as a hobby with a friend and very quickly developed a love and aptitude for the ice.  Working her way through Bronze, Silver and Gold skill levels, she started to master double jumps, spins and complex sequences. These requisite skills have allowed Isabella to progress through her National Ice Skating Association Levels and she is currently training for Level 5 'Field Moves' and will be taking Level 4 'Dance' on 5th December. Level 6 is coaching standard!
National competitions are next for Isabella and her skating partner of 1 year, Leo. They were paired by their shared skating coach and matched on ability and height. It is quite rare to have mixed pairs at this age and both are hoping for future success together.
Starting with hired skates, Isabella is now progressing to specialist skates which are shaped to fit and will allow her to skate with very close edges. Her white and black outfit for her Level 3 test was designed by her coach and was specially tailored for the occasion. 
Well done Isabella, we will be cheering you on all the way!
Podcast
Listen to the Podcast here: